Rosemary Beryl (née Page) Thomas
Rosemary was born in London to Beryl Minnie (née Barcham) Page, daughter of Herbert Stanley Barcham, a descendant of Captain William Barcham of Mundesley. Rosemary married John Alan Thomas and they have three sons: Christopher and Carl, and Alan. The family lives in Eltham, South London, in the house bought by Minnie and Herbert when it was built in 1924. Rosemary's sister, Daphne, lives next door in the house originally owned by their parents, Beryl and Bert Page, from 1956 to 1998.
Rosemary has been an adult leader in Girlguiding with various units for more than 25 years after having enjoyed being a Brownie, a Girl Guide and a young leader. She became a Queen's Guide at 16. Rosemary has been the District Commissioner for Royal Eltham East and New Eltham. More recently Rosemary has studied energy healing and is now a qualified healer. Energy healing is a holistic approach to facilitating the return journey to health which is explained on their website.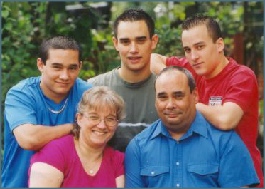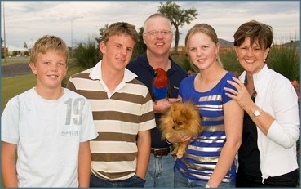 Jan East is the daughter of Cyril and Audrey Barcham, descendants of Captain William Barcham of Mundesley through his grandson Henry Barcham. Jan was born in Victoria, Australia and moved to Western Australia in 1966 with her parents and three older brothers. She later married Philip East and went to live in Canberra, where they pastored a church. Twenty years later they moved back to Western Australia to be closer to Indonesia where Philip travels regularly for volunteer missionary work. While living in Canberra they became close friends with Doris and Tom Barcham who came to Australia from New Zealand [Tom is the brother of Pat Barcham of Christchurch].
Jan is a teacher and Philip works for the Australian Government. They have three teenage children who play Australian Rules football and cricket and are very involved with their local church. You can find out more about the East family and the work in Indonesia by visiting their family website.
The Thomas family of London