Judith Anne Constantine
Judith is a descendant of Captain William Barcham of Mundesley through her grandmother, Annie Winifred Barcham. She grew up in Southend-on-Sea and graduated from Exeter University with a degree in chemistry. Judith was employed as a research chemist at Glaxo Laboratories, Greenford, Middlesex in the 1960s, working on antibiotics and corticosteroids. She married Andrew Constantine, MBE, a chartered chemist. Andrew was born in Lefkara, Cyprus, and had come to London with his parents at the age of two. Judith subsequently became a scientific editor, and was a managing editor at the Institution of Mechanical Engineers.
Judith's great-grandmother, Emma Florence Pattle, lived at Paradise House, Out Risbygate, Bury St Edmunds, until she married William Barcham in 1884. This was unknown to Judith until 1981, when she found a photograph of the house in an old album. Judith became fascinated by her East Anglian forebears, but it was not until 2002 when she discovered that Chris Farrow had spent many years researching Barcham family history and read his Barcham Chronicles that her family's past connections with Norfolk and Suffolk became clear. She is currently the Barcham Family Publisher: she maintains the Barcham website and the master family tree.
Judith and Andrew live in a village in mid Suffolk, not far from the villages where Judith's Pattle forbears lived in the 16th and 17th centuries. Their main interest is their country garden that they created some 35 years ago.

Judith Constantine, Barcham Family Publisher
Trevor William Rix
Trevor is a farmer. He has lived on the family's farm near Long Melford, Suffolk, since he was three years old. Trevor is a descendant of Ezra Barcham of Edingthorpe, who was also a farmer, through Ezra's daughter, Rachel Barcham. The farm comprises about 220 acres of arable land and has been owned by Trevor's family since 1921. Trevor married Mary Ann Christian and they have a son, Timothy. The family lives in the 15th century timber-frame farmhouse where part of the original medieval moat remains as two large ponds.
Before retirement Mary was a primary school teacher. She is an active member of the local family history society. Mary was the registrations secretary for the Barcham Gathering and also compiled the original Barcham family tree. Trevor set up the first Barcham website in 2002 to advertise the Gathering and registered the domain barcham.org.uk. He has also written some notes about DNA testing for family history research. In 2013 Trevor took on the role of Family History Advisor for the benefit of family members.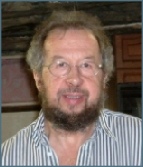 Trevor Rix, Family History Advisor