Clocks
John Juler
In August 2011, two long-case clocks made by Julers of North Walsham were advertised for sale on the Internet. One was made by John Juler (1713–1798), advertised by The Clock-Work Shop for ₤8250, described as:
C. 1780, 8-day moon-phase long-case clock by John Juler (1713–1798). Five pillar bell strike movement, 12 in painted dial with gesso gilt corners, and silvered calendar, Roman/Arabic numerals and blued steel hands, height 92½ in.
The other is more elaborate, see photo: attributed to John Juler (1750–1825); it was advertised by Allan Smith Antique Clocks for ₤5985, and described as:
Late 18th C moon-phase long-case clock, John Juler, N Walsham, inscribed on the face typical of the region/period. Dial: gilt gesso borders enclosing gilt scrolling corner spandrels, very well executed moon phases to arch with delicately painted seascape and landscape between moons. Roman hour numerals with minutes numbered, subsidiary seconds and date dials; blued cut steel hands. Movement 8 day five pillar with hourly striking . . .
Late 18th century long-case clock made by John Juler (Junior) of North Walsham

The Greenwich time ladies
Maria Elizabeth (née Last) Belville was a great-great-granddaughter of Margaret (Elliot) and Bartholomew Barcham, had a unique occupation. She was known as the first Greenwich time lady.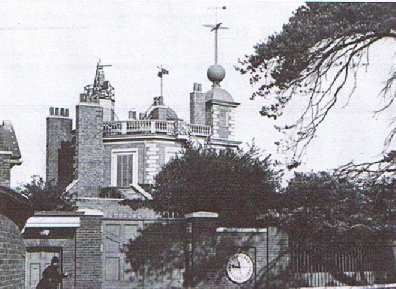 The Greenwich Observatory, south-east London